Grace College Online Education
Master of Athletic Administration
Grace College Online is pleased to partner with the National Interscholastic Athletic Administrators Association (NIAAA) and the Canadian Interscholastic Athletic Administrators Association (CIAAA) to provide a Masters in Athletic Administration Online that is convenient, practical, and affordable for their members. The NIAAA and the CIAAA strive to develop current and future athletic administrators who can lead wholesome, value-added athletic programs. Grace College joins with the NIAAA and CIAAA to utilize the content of their Leadership Training Courses (LTCs) as part of its graduate offerings for athletic administrators.
This Master's degree will a) extend the content of the LTC modules through higher-level thinking and learning activities, and b) enable athletic administrators to receive degree credit for their mastery of the content and their application of that learning in practical ways through their current employment.
Prospective candidates for this online sports administration master must meet the following admission requirements:
Be a member of the NIAAA or the CIAAA.
Have completed a bachelor's degree.
Partnerships
NIAAA Member Information
CIAAA Member Information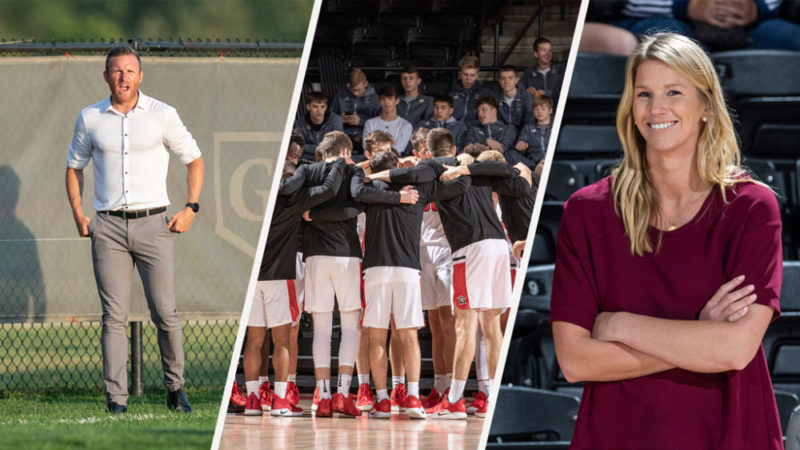 Admission Requirements
How To Apply
In order to be considered for enrollment in one of the graduate programs at Grace, you must fulfill certain admissions requirements. Below is a list of the requirements for the Master of Science in Athletic Administration program.
A bachelor's degree
Undergraduate GPA: minimum 2.75
Complete the application process
Be a member of the NIAAA or the CIAAA
Admission Requirements
Online Application

Complete the online application.

Transcript Request

Request official transcripts from the school where you obtained your bachelor's degree. If you are currently working on your degree, you can submit an unofficial transcript for admission until term completion, at which time an official transcript is required. Transcripts should be sent to onlineadmissions@grace.edu.

Acceptance Process

When all of the steps have been completed, you will be advised of the Admissions Committee's decision. The Admissions Committee may request that you submit additional materials and/or that you interview with a representative of the College.

Enrollment Deposit

Upon acceptance, submit your $100 Enrollment Deposit to accept your offer of admission. Your $100 deposit will be credited to your student account. Welcome to the Grace College community!
---
Ideal Fit
Unlock Opportunities
The Master's in Athletic Administration Online degree is perfect for those who want to grow their career.
Zealous
Exceptional
People Driven
Innovative
---
Career Opportunities
New careers are within your grasp.
This Master's in Athletic Administration Online Degree will equip you to move up and improve school and athletic programs.
Athletic Director

Sports Administrator

Director of Sports Facilities
---
Course Overview
This course will guide students in utilizing institutional and established legal guidelines to consider all aspects of liability related to athletic performance, and creating and maintaining a strategic plan for managing risk and maintaining safety, equity, and integrity in the context of interscholastic athletic programs.
This course will assist students in understanding athletic finance and budgeting. It will also guide students in the development of an athletic marketing plan.
This course has two main objectives-to review and discuss the various ways to build a cohesive athletic team, and to develop successful strategies to build character within the student-athletes.
This course outlines the policies and procedures in operating and administrating sport medicine and strength training programs. Further, the course will guide the athletic leader through the development of policy and procedural manuals for each area.
This course will guide students in the development of an athletic facility master plan. Further, it assists students in understanding the role the athletic director plays in management of the athletic physical plant.
---
Commonly Asked Questions
Additional Program Details
The average time that a student takes to complete the degree is two years.

You can transfer accredited graduate courses that are equivalent to Grace College requirements with grades of "B" or better.

Due to the nature of the program, the MSAA program is not eligible for federal financial aid.
---